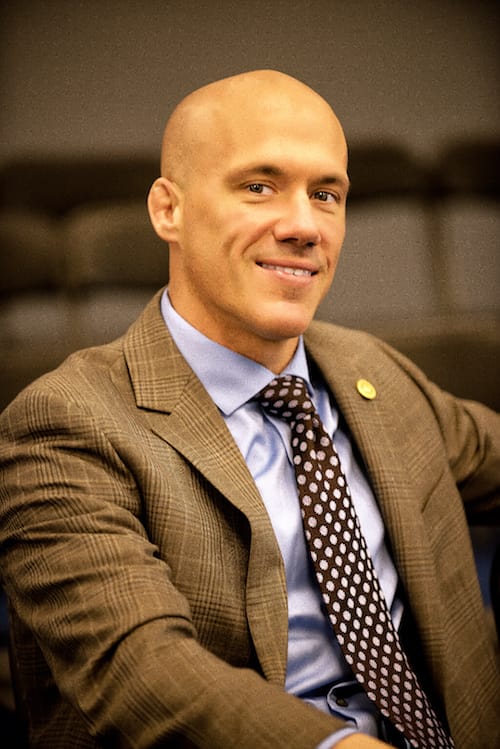 Scot Schwichow
As the founder and chief instructor of Revolution Modern Martial Arts, Scot Schwichow knows the ins and outs of making martial arts both accessible and fun. He's not only teaching kicks, blocks, and punches; he's laying the foundation for self-awareness, self-discipline, and self-empowerment. He's is on a constant quest for self-improvement, and wants to bring as many people as possible along for the ride!
Scot understands the beneficial impact of martial arts on a kid's life, because he started training in high school. His mom and dad brought him to a local karate studio because he was small and weak with no confidence. This lead to him being a mediocre student who was being bullied and struggling with anger management issues.
When he began formal karate training at 13 years old, he built the confidence to learn how to end the cycle of bullying and improve his grades. This lead to becoming a Black Belt and going on to college earning a Bachelors Degree in Psychology from the University of Delaware.
Now, with more than a quarter century of experience under his belt, he's sharing the transformative knowledge of self-defense with the next generation of warriors. A trusted leader in the field, he has a broad social media following, and is sought as a consultant by martial arts teachers nation-wide. He is even a published author with two books under his belt!
Scot's mission is to impart his driving philosophy to every student: in order to succeed, we must continually strive to do better. Leading by example, he works hard to be the best martial artist, coach, and role model he can be. On top of being a self-defense guru and fitness enthusiast, he's a huge Star Wars fan who can nerd out with the best of them.
Black belt in american kenpo karate
2005 gold medalist wka muay thai kickboxing nationals
Active member of Clayton rotary club and former president
Founder of Revolution Modern Martial Arts
Owner of Fit Body Boot Camp Clayton, NC
Creator of the A.S.S.E.R.T. method of self defense
Creator of Omidachi Ryu Kids Karate System
Author of best selling Samurai Parenting Secrets: 7 Steps to Give Your Child More Focus, Discipline, and Confidence from a Martial Arts Expert
Author of The Goal Getters Workbook: The Daily Roadmap to Your Objectives Husband and father
Has worked over 12000 hours on the mats with kids and adults helping them achieve more focus, confidence and discipline