You probably heard that our super popular Blaster Battles Camp was sold out, but I have some good news.
We have a few spots that just opened up.......
Click Here to Register Before it Sells Out Again!!
If you have not heard, Revolution Summer Camps are amazing. Don't take my word for it, families who register for a camp year after year give us rave reviews.
What makes our Blaster Battles Camp different?
1) A clean, spacious facility designed for kids to have fun and burn energy all-day
2) Athletic games that kids love and promote a healthy lifestyle
3) A structured curriculum where kids use Nerf Blasters though the week to defend the Earth from an alien invasion!
3) A proven track record of success: we did not get over 100 five star Google reviews by accident!
But don't just take my word for it, read what one of our many reviewers had to say:
"The staff is professional and very knowledgeable in the arts. They take time to show the maneuvers and also explain the physiology behind it. The little ones are not only taught the arts, but also positive character traits and problem-solving. My kids have been at this gym since it started. This place is awesome and I can't say enough good things about it!"
Q?: What is a typical camp day like?
A: A mix of fun athletic games and Nerf themed activities!
Q?: Does my kid have to bring darts to the event?
A: We supply all the darts and eye protection, kids just bring their favorite nerf blasters!
Q?: My child has no martial arts experience, can I still register?
A: Absolutely, since we are running Nerf events this week this camp is fun for all kids!
So Click the Link Below Now to Register before the newly opened spaces are all gone!!
Blaster Battles Registration Link CLICK HERE!
This camp has been SOLD OUT for over while now, and the new spaces will go FAST.
I am looking forward to seeing your kid have fun at camp!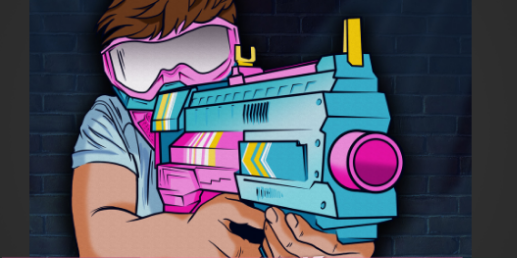 P.S. If you still have questions about camp, give us a call at 919 359-1776, we would love to answer your questions.