Challenge Your Child With The Best Age-Specific Kids Martial Arts Classes Today!
At Revolution Modern Martial Arts, we take your child's development seriously. That's why our Facebook Lead Kidsprogram offers age-specific training for students as young as 3. In our classes, students and their parents enjoy ongoing feedback and assessment and we learn every student's name on day one.
Our hands-on instruction can help your child develop a wide range of skills in no time.
Take on Clayton's Best Facebook Lead Kidsprogram today! Just fill out the short form on your screen to get started!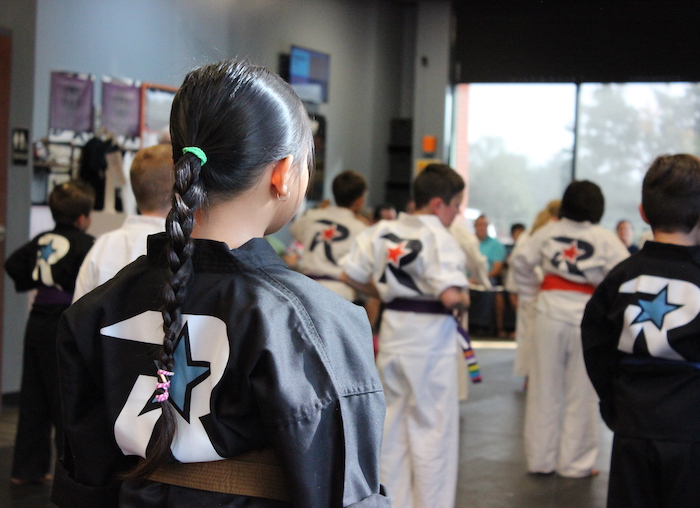 How Does Our Facebook Lead KidsProgram Work?
We break students into multiple age groups for training to ensure that your child is surrounded by classmates of their same age and ability. And at Revolution Modern Martial Arts, we test students after every single class. That allows us to accurately assess your child's progress and give them an incredible sense of accomplishment every time they leave!
Our Facebook Lead KidsClasses in Clayton include:
Ninjas (Ages 3-5)
Our Ninjas program takes place in a small-group setting where students learn to take turns, acquire an understanding of patience and teamwork, and is perfect for kids who have trouble sitting still or who need help building core strength or growing their athleticism. There is no sparring or contact in this class -- the focus is on creating positive personal growth and building the foundations for success.
Tigers (Ages 4-7)
The Tigers class is for children who have a basic level of athleticism. This class teaches focus, respect, and helps students grow their self-discipline and confidence. We teach how to take excess energy and channel it in a positive way! There is no sparring or contact in this class.
Dragons (Ages 7-9)
The Dragons program teaches children how to follow rules, introducing healthy competition and early regulation training. Aside from building discipline, respect, and confidence, the Dragons program also showcases leadership skills and starts students out on basic sparring.
FOR KIDS AGES 10 & UP PLEASE SEE OUR TEEN PAGE HERE
All of our Facebook Lead KidsClasses are perfect for any experience level. No matter your child's age, they are invited to join us today!
PLUS, At Revolution Modern Martial Arts, We're Setting Your Child Up For Success In All Aspects Of Life!
Students in our classes often focus on physical tools like punching and kicking and combination strikes. But our team of instructors offers so much more than just physical strength and ability. Our Instructors are paid professionals who role model academic excellence as the program was created by Scot Schwichow who holds a bachelors degreee in psychology, member of multiple honor societies, and published author on parenting and goal setting.
We're setting your child up for success in everything they do by surrounding them with positive role models and building them up through a series of accomplishments. We're proud to help students all across Clayton prepare for anything life throws their way.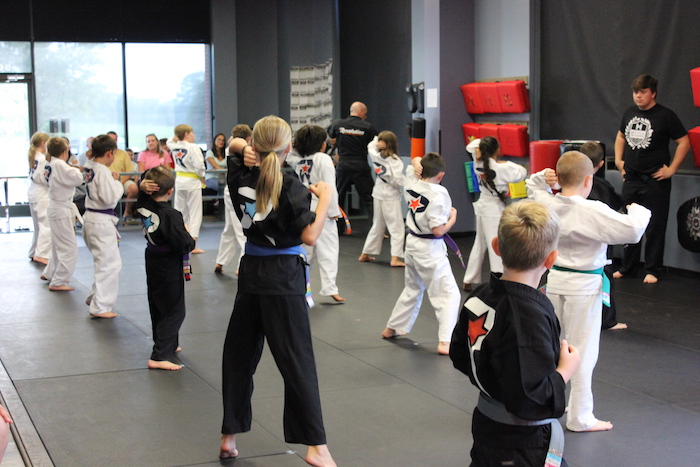 Our Facebook Lead KidsClasses can help your child learn:
Respect and discipline
Unwavering self-confidence
Teamwork and communication skills
Pride in everything they do
Give Your Child An Exciting Way To Grow With The Best Facebook Lead KidsClasses In Clayton!
At Revolution Modern Martial Arts, we're committed to offering your child high-quality martial arts training in a safe and supportive environment. Our facility is second-to-none and our staff is dedicated to helping every child succeed.
Join us in Clayton today for the best Facebook Lead KidsClasses around. Just fill out the short form on your screen to get started or to learn more!