For Self-Defense Or Fitness, Our Kickboxing Classes Have You Covered!
Take on the most effective Kickboxing Classes in Clayton at Revolution Modern Martial Arts. Our system blends aspects of Muay Thai, American Kickboxing, Boxing, and real-world self-defense and was developed by Chief Instructor Scot Schwichow. Our Kickboxing program has produced multiple fighters who win WKA Kickboxing National medals.
Train with the best and walk away with the results to prove it. No prior experience is required. Fill out the short form on your screen to get started today!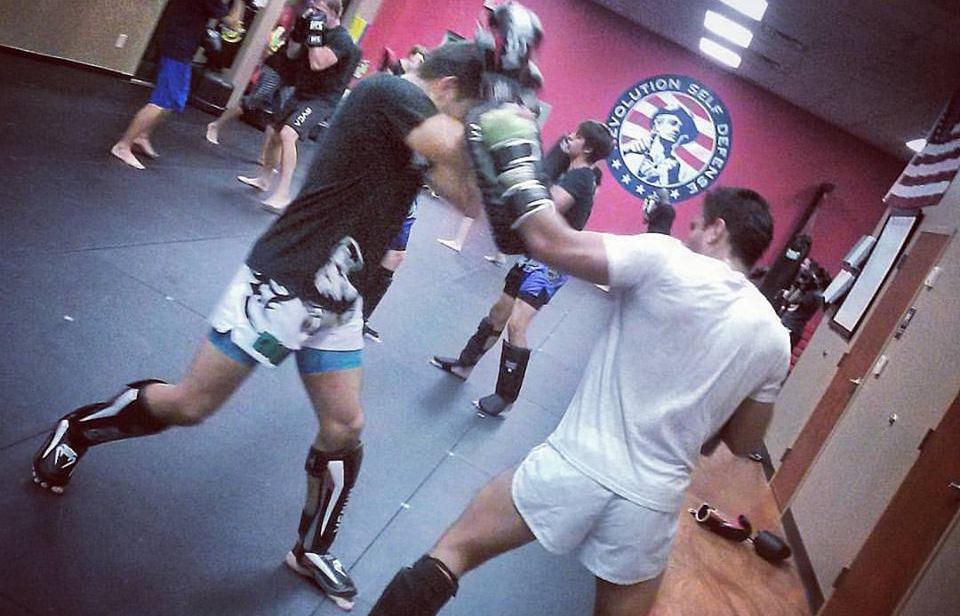 What Can You Expect From Our Kickboxing Classes?
This program is high-energy and fun and we use a progressive curriculum that is great for the beginning student. Our goal is to help you get in great shape while also learning effective self-defense strategies for any situation. Because we combine elements of some of the world's most popular Kickboxing disciplines, we give you a foundation of skills that could keep you safe in the face of any threat or danger.
From day one at Revolution Modern Martial Arts, you can enjoy:
Professional instruction
Hands-on coaching and feedback
Effective striking strategies
An emphasis on speed, power, and efficiency
This class is great for everyone in Clayton. No matter what your goals might be, we're here to make them happen one day at a time!
Don't Settle For Good Enough. These Classes Can Help You See Sustainable Success.
You know that feeling when you're giving it your all and you're just not seeing the results? Not anymore.
Our Kickboxing program offers a varied workout routine that keeps your muscles guessing and prevents your body from ever reaching that dreaded plateau. Each and every class is different from the last and our instructors are committed to pushing you through every single movement.
In no time, you can enjoy:
Sustainable fat burn and muscle gains
Reduced stress in your everyday life
Healthy weight loss and boosted cardio health
Incredible confidence in everything you do
Change The Way You Train With Our Kickboxing Classes In Clayton!
If you're ready to see real results and feel better about your workouts than ever before, join us today at Revolution Modern Martial Arts in Clayton. Our instruction is truly the best around and we're committed to meeting the needs of everyone who comes through our doors.
Take the first step today and learn more about our Kickboxing Classes by simply filling out the short form on your screen! We'll reach out right away to answer all of your questions.